In the UK, the average time we wait for our tea to brew is only 20 seconds!
Good quality leaves need a bit longer – usually around 3-4 minutes.
Our English Breakfast Tea is bold, malty and rich and made with the widest variety of leaves ever grown in England, then blended with the finest Assam. This blend incorporates some of the 38 different varieties of Camellia sinensis that were gifted to Tregothnan from growers across the world at the end of the last millennia.
When tea growers from Vietnam, India, Malaysia and China heard about our British quest to be the
first growers of tea in the UK, bushes were sent in celebration of this momentus and pioneering
undertaking and planted in the experimental section of Tregothnan's tea gardens.
Flavour profile: Rich, deep, complex, awakening.
Brewing Instructions: Water 95ºc | 3-4 mins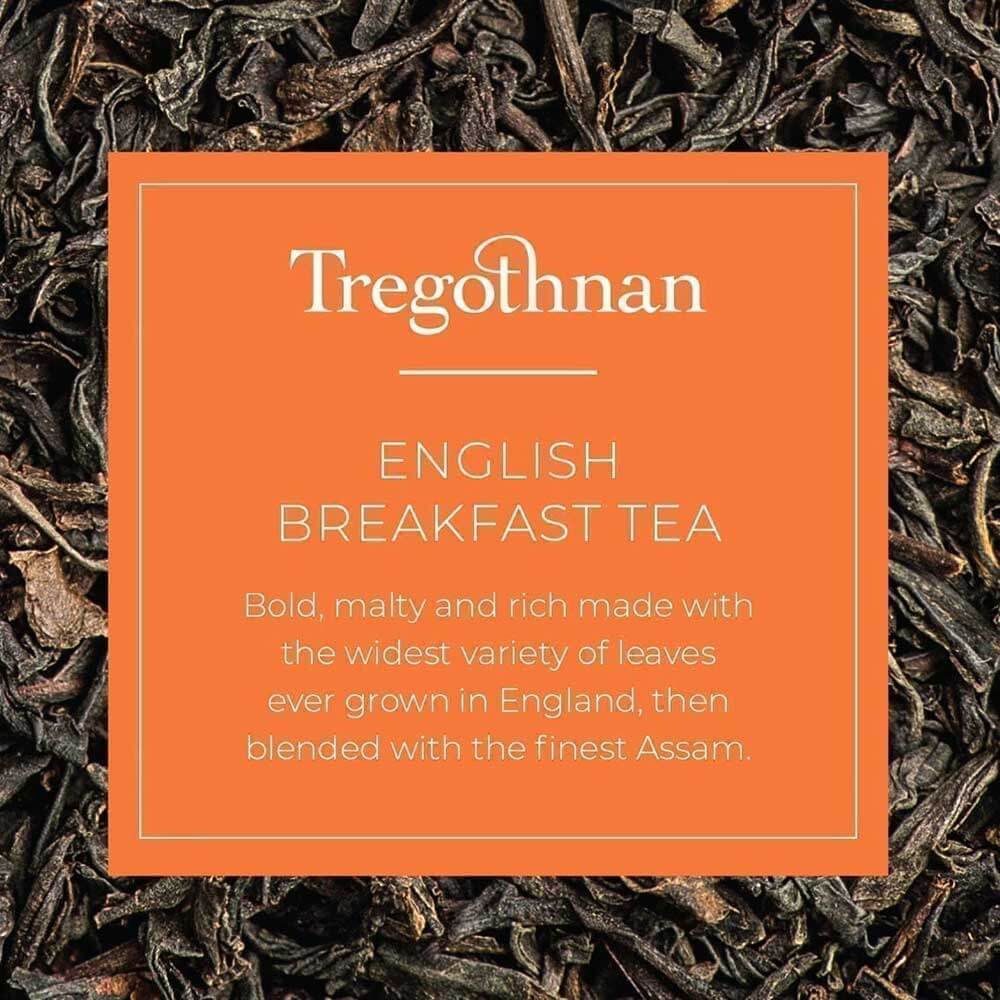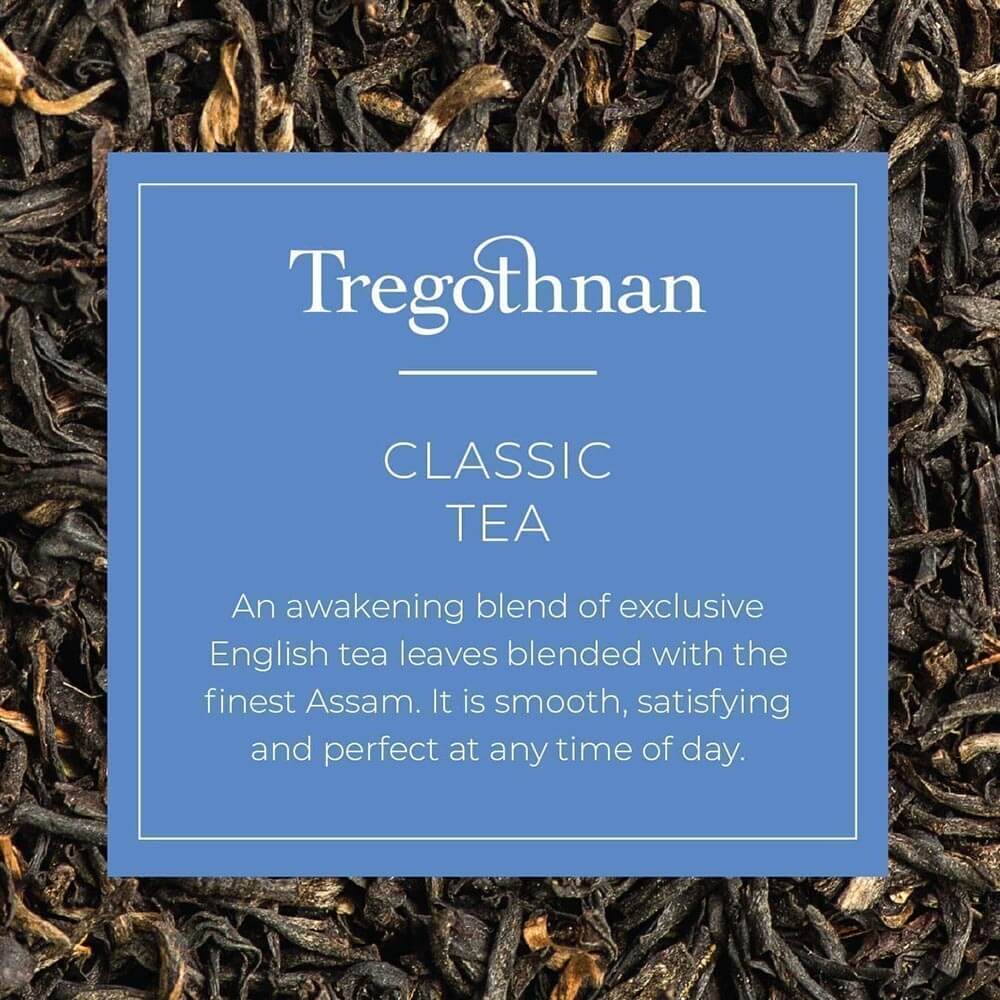 The first tea grown in England, Tregothnan's Classic Tea is hand-plucked from our beautiful tea gardens in Cornwall and is the perfect brew for every time of day. A smooth and delicious blend of Tregothnan leaves with the finest Assam, it was our very first tea and continues to be our most popular blend too.
We don't add any extra tannins to our teas to artificially deepen the colour, so you can taste the natural freshness of our Camellia sinensis leaves, grown in the sunshine in Cornwall, in every cup of Tregothnan Classic Tea.
Flavour profile: Bright, smooth, clean, malty.
Brewing Instructions: Water 95ºc | 3-4 mins
The Most British Tea in History is a perfect partner for the GREAT campaign, which invites the world to take a fresh look at everything Britain has to offer. No government has taken tea this seriously since Churchill or Earl Grey. Tea can define what makes us British. The strength of passion for tea in the UK has made us an export champion, encouraging many other businesses to trade overseas.
We have blended esteemed Tregothnan Classic Tea with a hint of full-bodied tea of Assam to create a strong and lively breakfast brew.
Flavour profile: Bold, malty, strong, dark, rich.
Brewing Instructions: Water 95ºc | 2-4 mins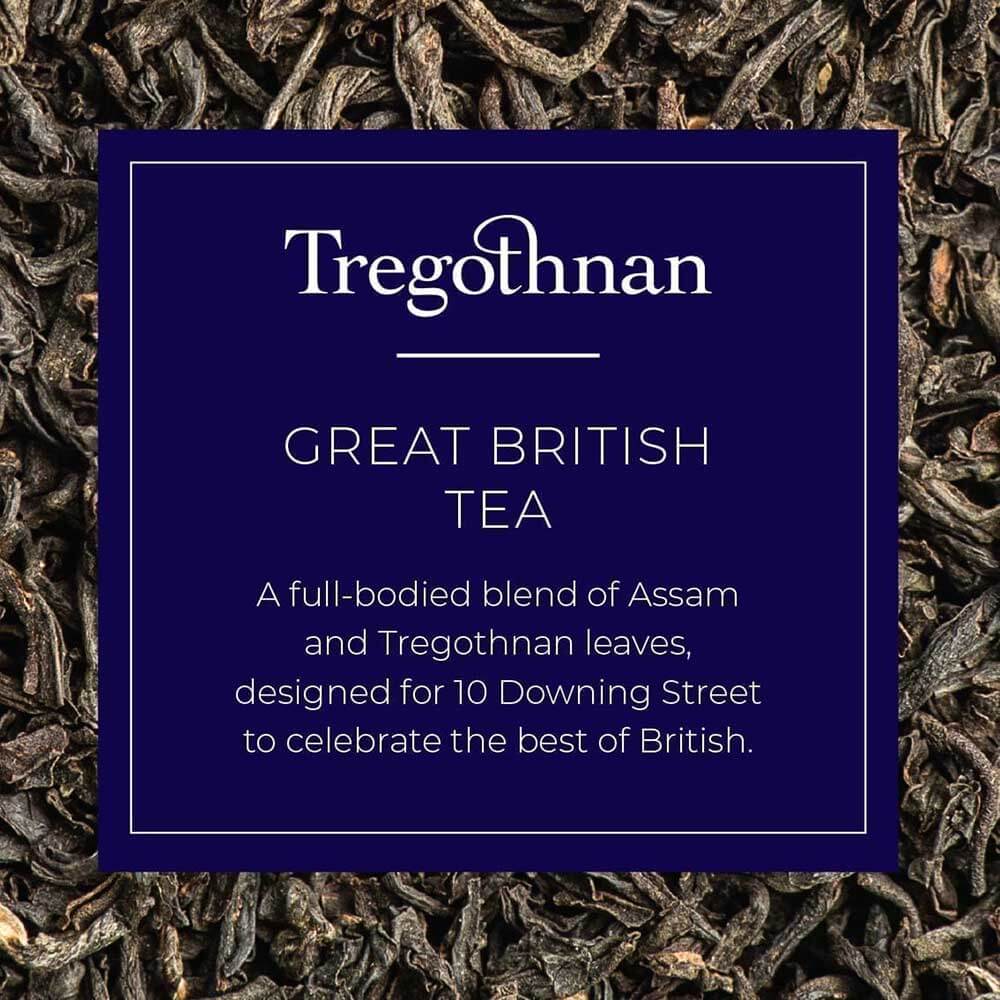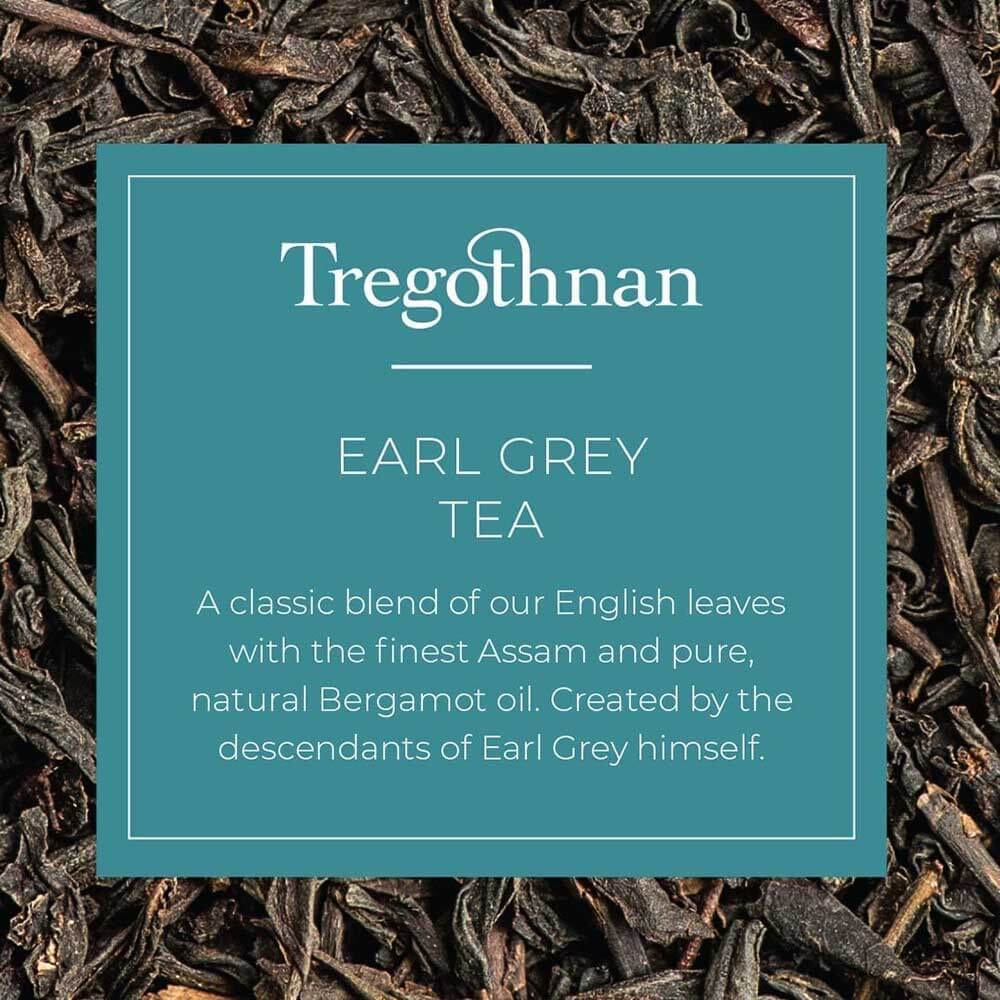 200 years after Prime Minister Earl Grey enjoyed this wonderful blend, his direct descendant has created the ultimate tribute. US tea blogger Geoffrey Norman recently raved about our "perfect Earl Grey," which he described as "the most British Earl Grey. Ever."
A premium blend of hand-plucked Cornish Tea from Tregothnan and the finest Assam Tea from India, Tregothnan's Earl Grey is simply infused with pure, natural Bergamot oil. It is both invigorating and uplifting, yet subtle and sophisticated.
Flavour profile: Citrus, warm, smooth, biscuity.
Brewing Instructions: Water 90ºc | 3-4 mins
A light and exotic blend of unique hand-plucked leaves from our Cornish estate with the 'Champagne of teas' from Darjeeling (Tregothnan's twin). Quintessentially British, our Afternoon Tea is delicately refreshing with invigorating citrus notes.
Flavour profile: Light, delicate, sweet, aromatic.
Brewing Instructions: Water 85ºc | 2-4 mins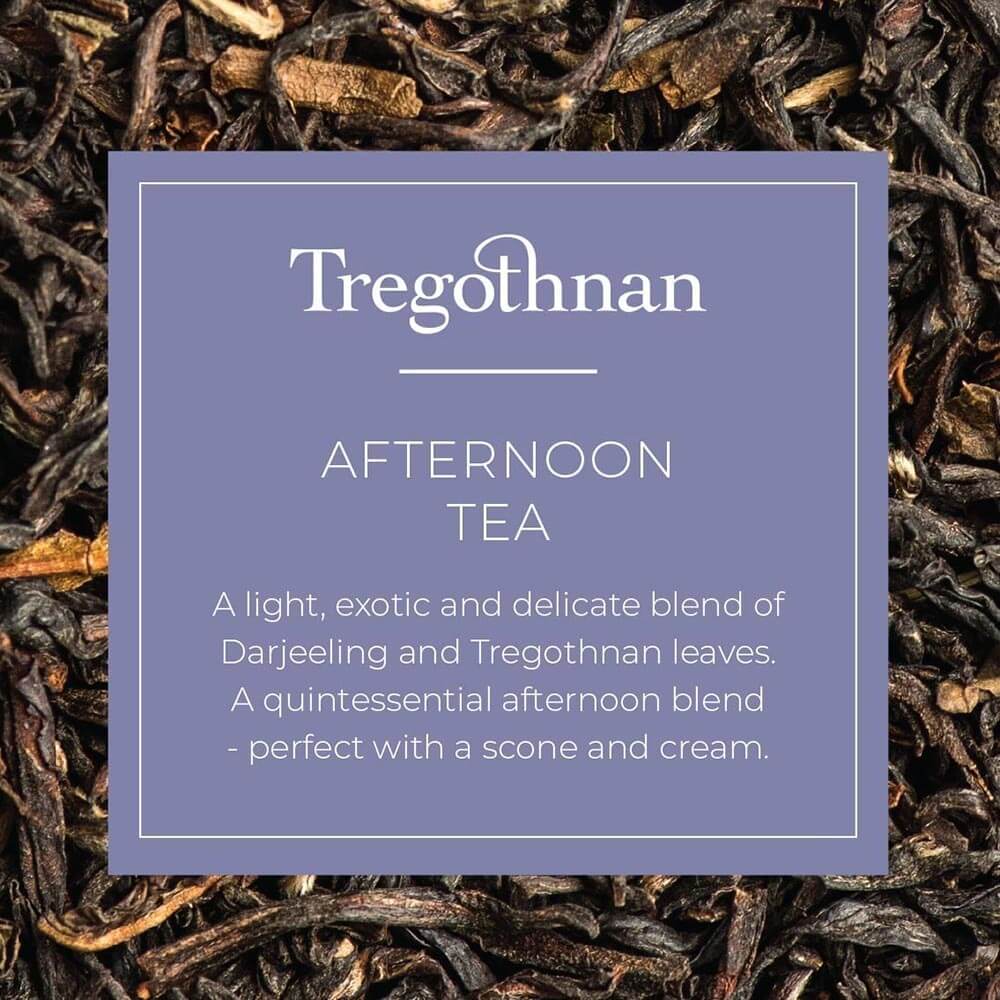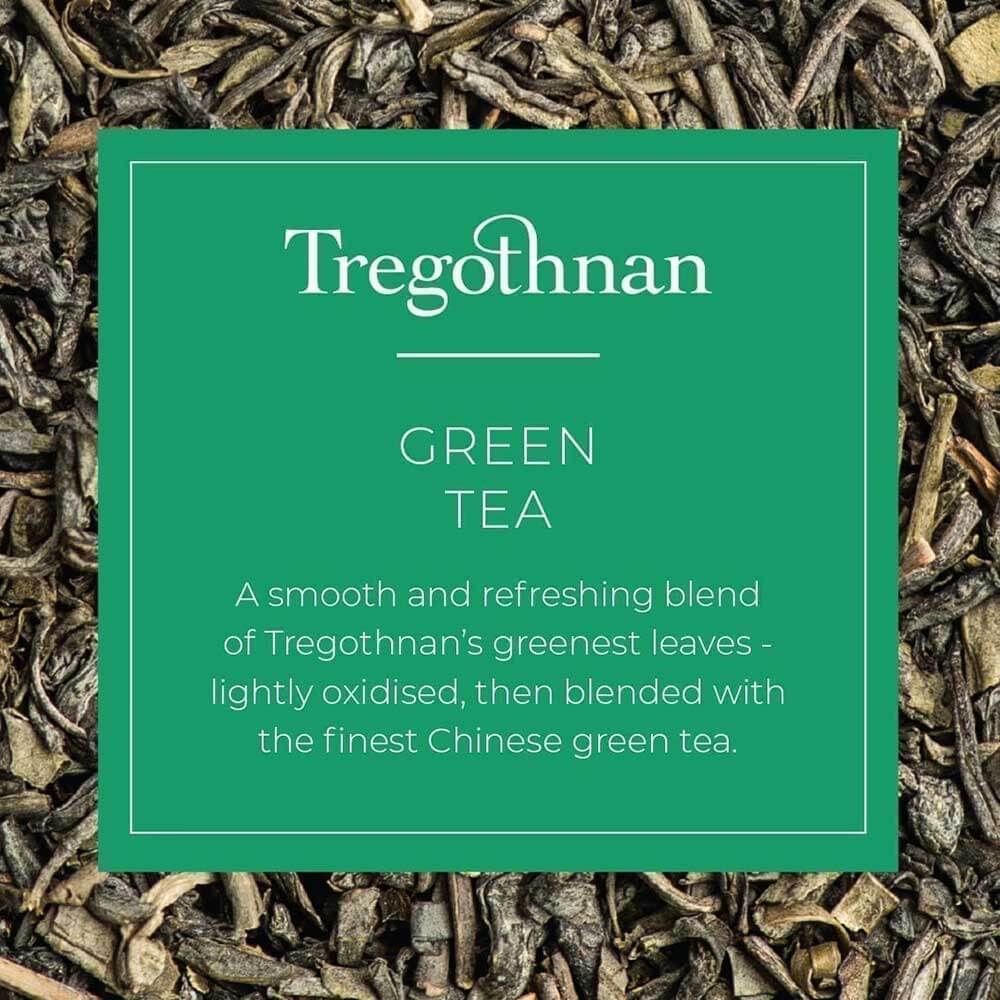 Our Green Tea comes from the same type of bushes as those from which it was first discovered in China. The process of creating black teas varies here, as oxidisation is replaced by steaming so the fresh leaves retain their natural green colour. Green tea contains powerful antioxidants that are
reported to help fight illness and add nutrients such as vitamins and minerals. It can relieve the feeling of fatigue, boost the immune system, reduce cholesterol levels and reports show that it can also remove toxins from the body naturally and safely.
Flavour profile: Smooth, clear, sweet, light, refreshing.
Brewing Instructions: Water 80ºc | 2-4 mins
Chamomile is a golden yellow tea with a sweet earthy apple taste and aroma. Grown and picked at Tregothnan, this plant has been used for years as a medicinal cure-all to calm the mind, help flu, soothe digestive issues, and ease muscle stiffness and cramps. It is fabulous to encourage a better quality sleep. Our Chamomile infusion includes stalk-on flowers. These are a wholefood which means that it has a more fulsome flavour – similar to Aloysia, the taste from the flower stem can be the most intense.
Flavour profile: Apple, earthy, sweet, floral, sunny.
Brewing Instructions: Water 80ºc | 4 mins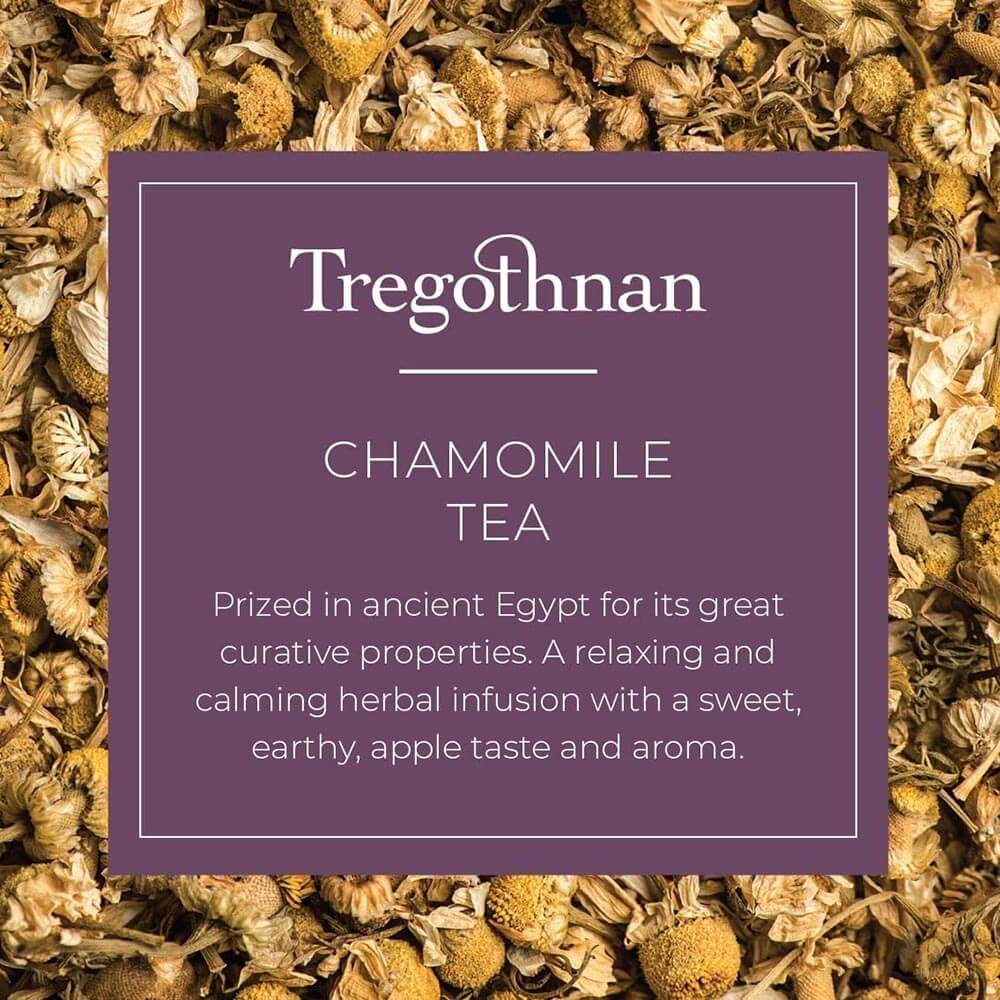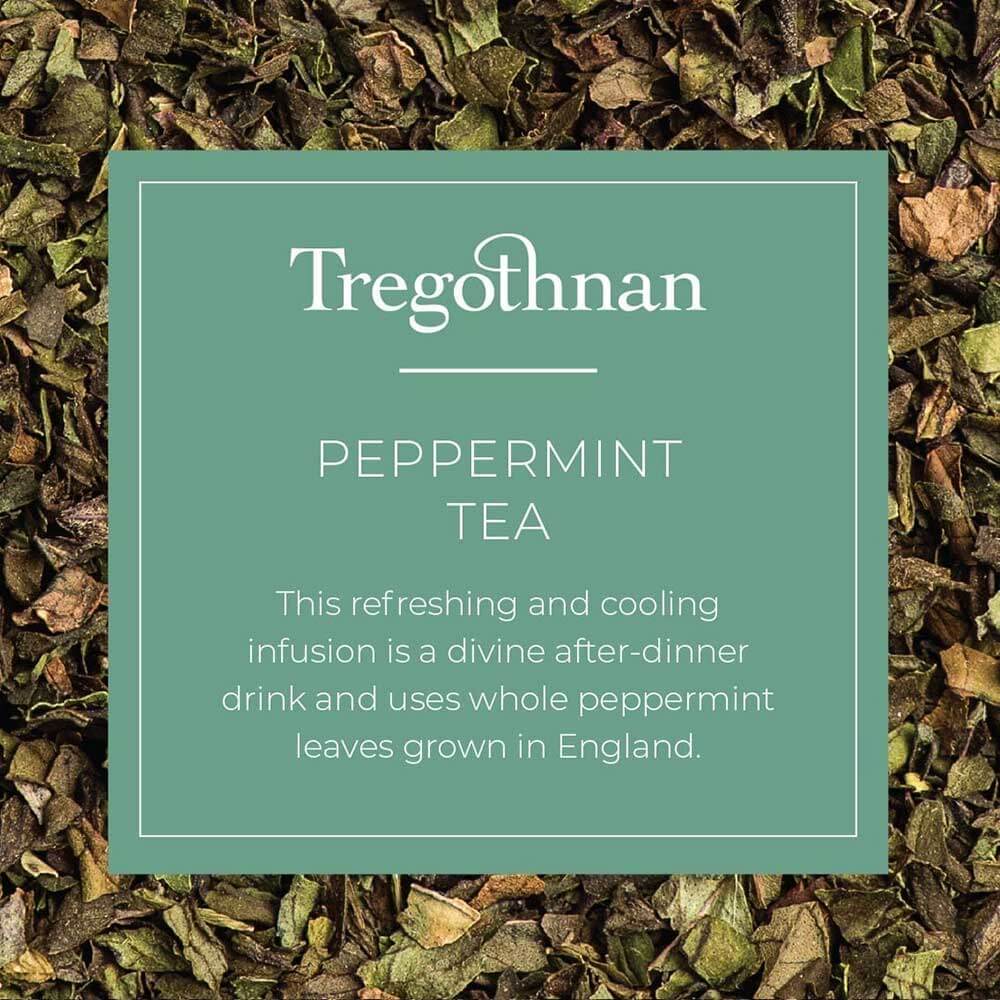 Tregothnan's pure whole leaf Peppermint infusion has a crisp striking aroma to match its distinctive natural taste. Pure peppermint tisane is triple infused for the most amazing strength of flavour.
This refreshing and cleansing infusion has super menthol powers that are reported to aid digestion,
prevent nausea, beat stress, tackle headaches, relieve heartburn, soothe muscle aches, and ease asthma.
Clean, clear and naturally caffeine free, enjoy this intensely flavoursome tea as an after-dinner digestif.
Flavour profile: Cleansing, menthol, refreshing, bright.
Brewing Instructions: Water 80ºc | 2-4 mins
How to Brew Manuka Tea
Exclusive to Tregothnan, Manuka has a distinctively sweet spicy flavour. Grown at Tregothnan since it was first introduced from New Zealand in the 1800s, bees feed on this pretty bush to make Manuka honey. Manuka bushes are celebrated for their antibacterial properties used both internally and externally, and are even used by nurses to dress wounds. Why not brew yourself a cup of Manuka next time you need to soothe a sore throat?
Our Manuka tisane is sometimes likened to Rooibos or Honey bush from South Africa.
Flavour profile: Aromatic, medicinal, sweet, floral.
Brewing Instructions: Water 80ºc | 3-4 mins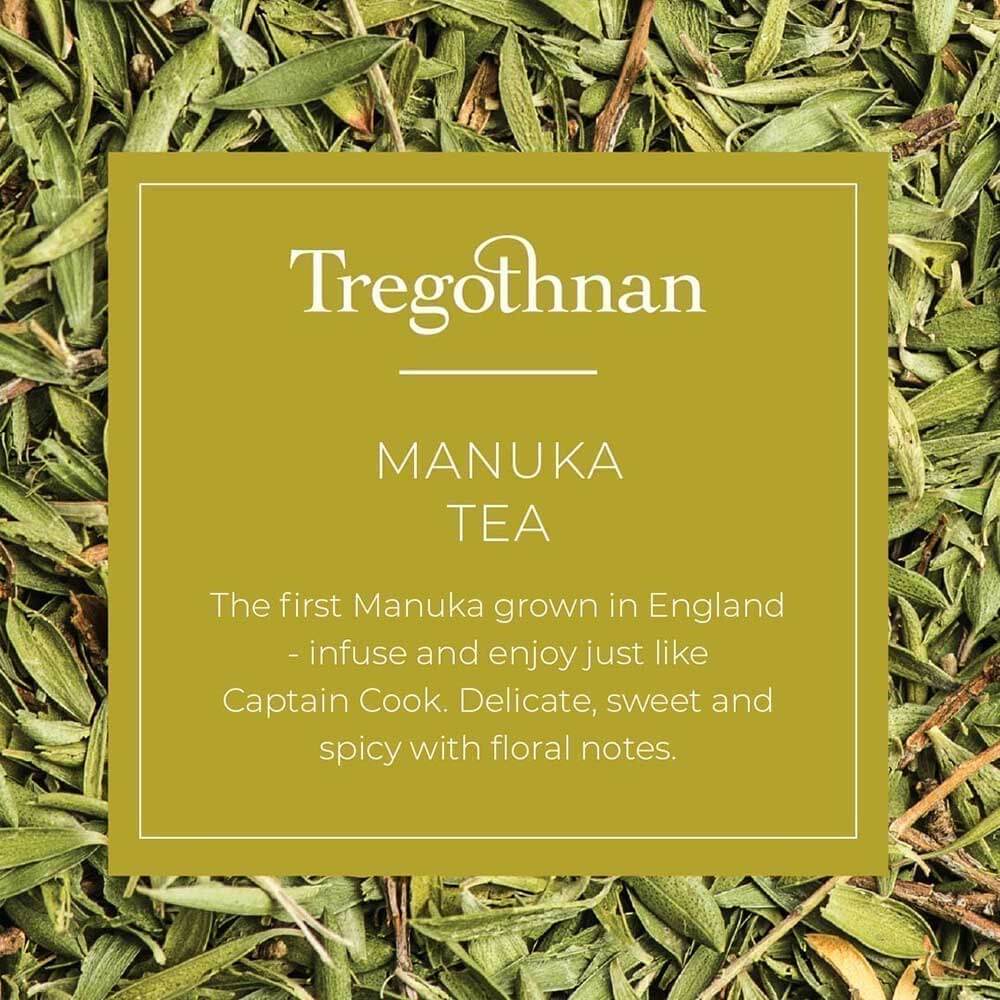 One of Tregothnan's best-selling infusions, this tisane is made from cut Lemon Verbena leaves to give a wonderfully rich lemon scent and piquant taste when infused. This tisane is particularly divine with our Green Tea or indeed a pot of Earl Grey to make a lovely Lady Grey Tea.
This infusion's many health benefits include it working as an antidepressant, expectorant, nerve tonic, and digestive aid. Tregothnan make no such medical claims but we do urge you to simply enjoy its zingy zestful flavour.
Flavour profile: Zesty, citrus, bright, grassy.
Brewing Instructions: Water 80ºc | 3-5 mins
Tregothnan's Red Berry infusion is a medley of summer fruits and berries from the botanic gardens
in Cornwall and apple pieces from our Cornish orchards. The blend also contains rosehips, orange
peel, hibiscus flowers. English marigolds, and pretty blue cornflowers. Surprisingly complex with an intense red colour to match its punchy taste, this bright infusion is perfect for thirsty summer days. Red Berry Tea is excellent cold brewed (overnight in the fridge) and served chilled.
The zingy fruit flavours balance perfectly with fresh floral notes for a rich palate.
Flavour profile: Fruity, floral, bright, juicy, refreshing.
Brewing Instructions: Water 80ºc | 4 mins